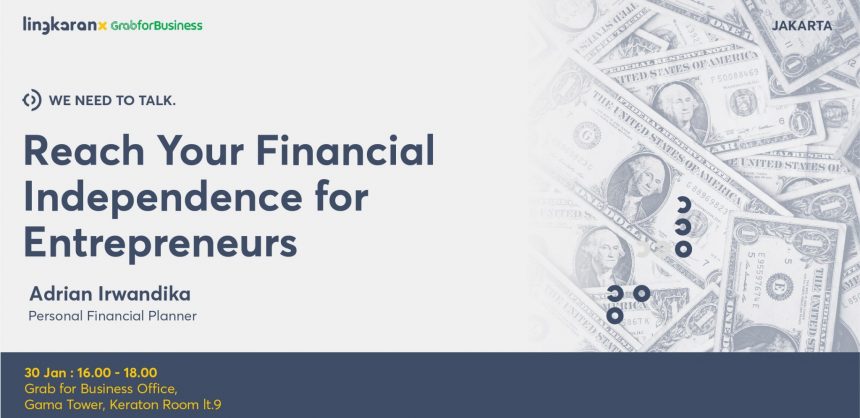 lingkaranx GRAB for Business ID WE NEED TO TALK: Reach Your Financial Independence as an Entrepreneur
Financial independence is one of the biggest goals for anyone considering their future, especially as entrepreneurs. Being an entrepreneur has many challenges, there are many things you need to prepare to build and run a business, including reaching a point where you are financially independent.
–
But how do you achieve financial independence as an entrepreneur? 
–
It is important to learn about strategies to solve the problem of money while balancing the purpose of life as an entrepreneur. In addition, we need to know that wealth is a valuable tool used to help you build fulfilling life goals.
–
That is why in our next session of We Need to Talk, lingkaranx in collaboration with Grab for Business would like to invite you, fellow entrepreneurs, aspiring entrepreneurs or those of you who are interested in learning financial independence as entrepreneur to join our We Need to Talk: Reach Your Financial Independence as an Entrepreneur where we will not only talk about how you can achieve your financial goals as an entrepreneur, there will also be class exercise and practice to help you achieve your financial goals as entrepreneur.
–
How is this Talk different than lingkaran other We Need to Talk Session?  
-Session 1 All about Theory: In the first  session of this Talk, learners will learn the right mindset about money and 3 keys rule in cash flow where learners will be encouraged to share their thoughts and financial concerns along with Q&A session with the mentor.
–
-Session 2 Class exercise / Practice: the second session will be an interactive class exercise / practice where the learners will learn effectively and efficiently about personal financial planning and budgeting and analyze it where afterwards both mentor and the learners will do a class exercise to analyze personal financial budgeting through 6 financial posts, and calculate targets for achieving Financial Independence for their last activity. 
–
So, are you ready to reach your financial goals as an entrepreneur?
–
To Join We Need to Talk: Reach Your Financial Independence as an Entrepreneur,  you need to fill this form by clicking the RSVP button below and change your personal grab profile to business profile. You can find out how to change your grab profile through here.
*Please note that seats in this Talk are limited. For information on whether you can join the program or not, lingkaran will be in contact for further confirmation.
–

–
We Need to Talk: Reach Your Financial Independence as an Entrepreneur will be held in Jakarta, 30 January 2020, 16.00-18.00 PM
At Grab for Business Office, Gama Tower, Keraton Room lv. 9, Jakarta
–
–
–
In collaboration with: