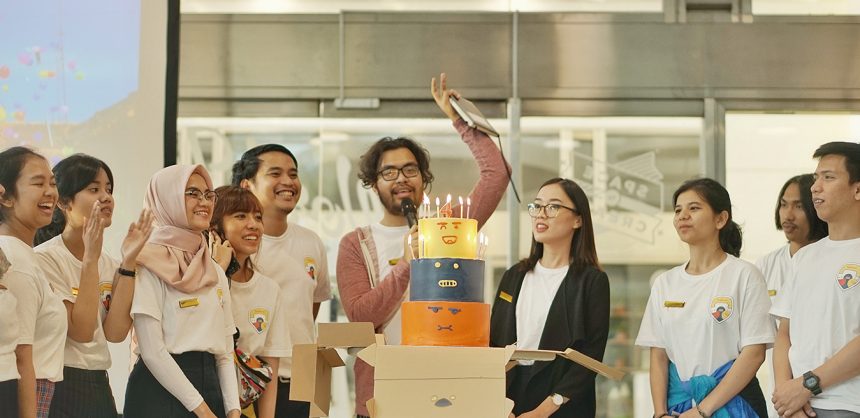 We Just Launched Our New Company Branding and It Gets Extra Quirky!
Jakarta, September 29th, 2018 – lingkaran finally released our company rebranding to refresh our inside out! We think it's about time, after four years operating as a non-formal education platform for creative talents and aspiring founders.
–
Behind Story
In 2014, lingkaran had a big dream to bridge the gap between what is given in formal school and what is really needed in the professional world. After quite a while, here's what we've found out: it's true that change starts from within. And what attracts growth in every individual journey is the circle that empowers them as a community. Therefore, in our fourth year, we shifted our ground value to be more grounded, relevant, and progressive.
–
–
What is lingkaran?
–
lingkaran is known as a leading creative education platform in Indonesia. We provide entrepreneurial development programs and in-demand skills training for those seeking relevance in today's fast-changing industry. Our purpose is to empower the community of creative founders and talents. We aim to maximize their circle of potentials and get them meet their next possibilities.
With that spirit, we collaborate with a wide range of stakeholders within the creative and digital industry; from the grass-root communities like CreativeMornings Jakarta and Book for Good; small-medium enterprises (SME) like Generasi90an and PROUD; national and multi-national enterprises like Telkomsel, Unilever, and FWD; educational institutions like MBA-ITB, Prasetya Mulya, and SMK; even government institutions like Bekraf, Kemenkop UKM, and Kemnaker. All in response to specific issues related to personal and professional growth, industry-ready talents, and entrepreneurship.
As per today, lingkaran is proud to have more than 500 programs, gave impact to more than 5,000 learners, inspired more than 80,000 people, and created limitless collaborations; with impact spreads across Java and Sumatra region.
–
–
What does lingkaran do?
There are many people that first came to lingkaran with potentials that are waiting to be unveiled and a fiery motivation to achieve growth. lingkaran imagine one's potential as a circle that everyone aims to make it whole. What we do is to be part of their journey and help them complete their circle.
There are various implementations on the learning journey, and it depends on size, time, and goals. To name a few: mini class is a one-time session aims to introduce certain skill in a fun, engaging way, class series is two or more classes to get deeper understanding and practical knowledge, we need to talk is an open talk on certain issues with a bigger audience, and edscape is a one day field trip to get some knowledge "outside of the class".
–
–
This Year's Highlight
Tackling the issue of employment readiness and industry 4.0, earlier this year lingkaran initiated a new program called Digital Mastership, which aims to prepare future talents with in-demand skills for the jobs of today that digital companies are seeking for. Guided by experts and professionals, learners will gain knowledge, required competences, and networks to build the career in related industry. Digital Mastership has been successfully done in two cities, Jakarta and Bandung, and will soon goes to Semarang and Surabaya.
Later on, lingkaran got chance to multiply the program in Jakarta with a help of the Ministry of Manpower of the Republic of Indonesia (Kemnaker). In response to Indonesia's current demographic bonus and challenging digital era where creativity and innovation stand above all, Kemnaker supported lingkaran by providing full scholarship for this program, involving 80 shortlisted participants from more than 600 applicants.
Entrepreneurship is the other core issues that we try to encourage. This is also supported by the fact that Indonesia's economy is predicted to advance 5.4 percent in 2018, higher than a 5.2 percent expansion in 2017. Investment is projected to increase at a faster pace, especially for lower commercial lending rates. Both local and overseas investors are paying more attention to the archipelago. In short, there's never been a better time to be an entrepreneur in Indonesia.
Knowing these facts, and knowing that fellow aspiring entrepreneurs are struggling to find mentor and getting insights for their business improvements, is why lingkaran launched business starter pack last July. It's the 10-week learning experience which offer entrepreneurship skill set from concepting, branding, to financing. lingkaran provides insights, expert feedbacks, personal coaching, and peer network to help aspiring founders start and grow a successful business in creative industry. For this program, we had successfully endorsed five graduates from the fields of fashion retail, F&B, and educational service.
–
–
Finally!
As for the future plans, we strive to be the home of remarkable people from all walks of life. lingkaran believe everyday is an invitation to a whole new adventure. We believe in lifelong learning and that every person has the potential to be the next thing they want to be. We bridge the awkward gap between what's given and what really matters. Because we want them to be relevant in today's fast-changing industry.
So we invite you to get curious, take a mission, and let's go above and beyond!
Let's meet #YourNextPossibilities with us!