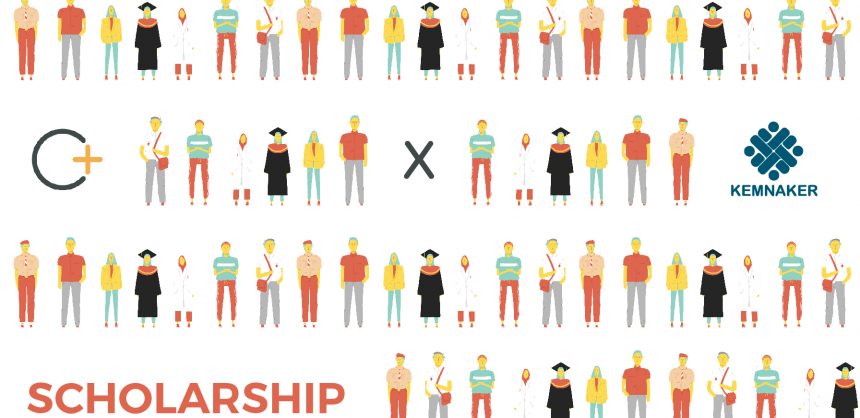 KEMNAKER Scholarship for Digital Mastership is Now OPEN!
We strongly believe that good intention takes you places. And gets you to attract like-minded people.
So when one day we met folks at Innovation Room by Ministry of Manpower of the Republic of Indonesia, we were so happy to hear that they support our movement on bridging the awkward gap of formal education and the real world, in order to be relevant in today's fast-changing industry.
–
In response to Indonesia's current demographic bonus and challenging digital era where creativity and innovation stand above all, Ministry of Manpower of the Republic of Indonesia (Kemnaker) launched a coworking platform called Innovation Room. It exists to cater young workforce and their working dynamics, to enhance their productivity and trigger collaborations.
–
–
Kemnaker supports lingkaran by providing full scholarship FOR YOU to join our state-of-the-art Digital Mastership program! This will prepare YOU, the young workforce, as a talent with in-demand skills for the jobs of today that digital companies are seeking for. Guided by experts and professionals, you will gain knowledge, required competences, and networks to build career in related industry. Are you in?
–



Check out the available programs and the schedule!
–

If you want to boost your performance at work, or want to grow your business with digital-related skills, come join this 4-sessions program worth IDR 4.200.000 for FREE!
To be selected for this scholarship, you must:
Be a minimum of 18 years of age at the time of commencing the Digital Mastership

Be a founder or employee of Local Startup / Micro Small Medium Entreprise

Be a citizen of and residing in Indonesia

Be committed to attend the whole sessions, to follow all directions and guidance from mentors and lingkaran, including finishing all the tasks within the required time limit and participate in the impact research (three months after the program)
–
You will get a confirmation if you are selected as a participant of this program. The confirmation will be notified via email / phone call / WhatsApp.
–
Submission due : 
August 19,  11:59 pm (Branding Strategist & Social Media Specialist)
August 26,  11:59 pm (Digital Marketer & Complex Problem Solving)
–
The shortlisted applicants will be announced on :
August 23, 6:00 pm (Branding Strategist & Social Media Specialist)
August 29, 6:00 pm (Digital Marketer & Complex Problem Solving)
–
The shortlisted applicants for Brand Strategist:
Putra Rizkhy Ananda – C2live.com
Haniftya – Rollover Reaction
Kevinta Mutiara Azisha – Bridestory (PT. Cerita Bahagia)
Aisha Syifa Maudina – We Are The Walrus
Lindie Rutry Wurangian – Mediatics Digital Indonesia
Rara – The Hatch
Irvan Khonggonegoro – Label Ideas
Shinta – AITINDO
Yohanes Purba Hapsara – Pincher ID
Ghassani Shabrina – Vivat Learning
Eko Nugraha – Creacle Studio
Grimaldy Sinaga – Davvala
Reza Permadi – Geotour Indonesia
Rivo – Atourin
Nadira Natasya – Kemah Muda
Hendry Alfiandi – Mowla Souvenir
Indah Maulidia – Daddy Durian
Andita Cahyaningtyas – Anonimo Leather
Anindya Sukarni – Miumosa Arthakarya Mandiri
Sintya Rosdwianty – GoodNote
The shortlisted applicants for Social Media Specialist:
Sakinah – Konner Advisory
Dwi Rahmatun Handari – Gotosovie
Retno Prasetyani – Haruka Evolusi
Mohamad Dana Febrian Sastiyana – Panggilin
Febri Raharningrum – Smartbee Schooling
Nito Waruwu – Bookabuku.com
Kezia – BFFLabel
Natasha Monica Putri – Tinyme.Up
Latifa Fatkhiyah – Rofiqs Mazraa Farm
Sonya Annasha Bonita – Definite
Astried – Macaloona
Satya Ramandha – Goek Golf
Melania Shinta Nugraheni – Selaksa
Ferima Puspita Dewi – Hay Maca
Kharisma Muhammad – CV.Feliz Karetindo
Siti Nurfitriana – PAS Fried Chicken
Fitri Febriani – @marmade.co
Mochamad Romadhon Febriarianto – Headside Skateboard
Bobby Muhammad Ihsan – GandengTangan
Ari Maulana – Pesanlab.com
The shortlisted applicants for Digital Marketer:
Ristiana Eteng – Sole Galore

Atikah Risyad – sakali.com

Arichi Christika Lorery – osem
Anindia Karlinda – The Borrowed Tale
Anggiani Widyastiti – Bhvmi
Andini Kusumadewi Warman – PT. Main Kreasi Indonesia
Pradipta Mulia Haposan – Vluid
Dian Anggraini – PT. Matoa Indonesia Digdaya
Philadelphia Debora Putri Heriyanto – La Fe Clothing
Inan Nadya Junus – Artenov
Ian Eryanto W – JKTGO.com & BALIGO.co
Herdimas Muhammad Farkhan – Banner Shave
Shanti Hapsari – Inggil_homedeco & Niena Daycare
Eva Handayani – Umama Scarf
Ellen Su – Kaya Rempah
Ilham Indiarto – PT BLANCO KOPI INDONESIA
Karen Christianti – PT Rahmat Damai Sejahtera (Ozora Indonesia & Dailywell)
Reza Radityo – Ruang Kreasi
Reza Sofiyan – Manikarma_ind
Nirwan Dharmawan – Trivoru
The shortlisted applicants for Complex Problem Solving:
Maya Dita – Save Yourselves
Farandi Hafid – CROWDE
Faiza Fauziah – Waste4change (waste4change.com)
Kevin Tan – Katadata.co.id
Gita Rustifar Rustana – Traval.co
Aditya Awal Sri Lestari – Yayasan Madani Berkelanjutan
Gumilang Reza Andika – Kopernik
Patriot Negri – Design Alliance Workshop / PT Desain Aliansi Wiyatakarya
Hadijah Larasti – Sahaja
Mochamad Aulia Akbar Praditomo – Talenku
Jonathan Cussoy – Yors
Rachma Safitri Yogasari – Kampung Halaman Foundation
Abidah Syauqina – TemanBisnis
Azka Asfari Silmi – Legalnext
Rahma – TunaiKita
Tubagus Rizky Dharmawan – Cloudtech
Asti Widiandita – PT Jualan Online Indonesia (BJtech-Bang Joni)
Sari – Indonesia Indicator
Jill Anestasia – Ulosi
Fika Dian Nuranita – #ISmile4You
–
CONGRATULATIONS!
Thank you for everyone who submitted the application. We were overwhelmed with amazing submissions and it took us quite an effort to finally made the shortlist. Maybe next?
–