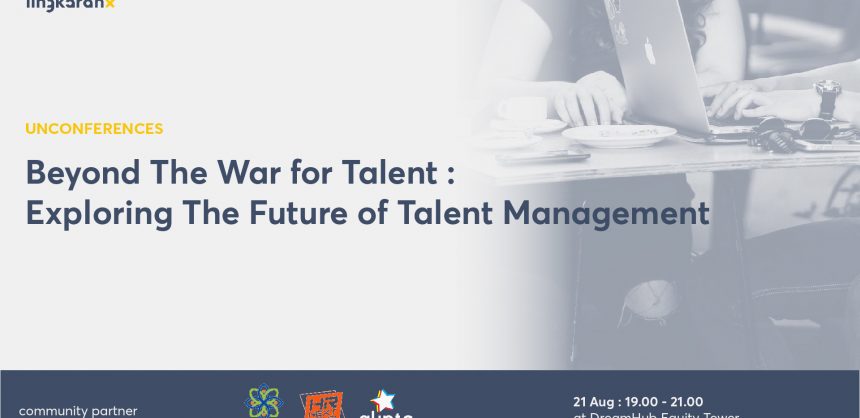 Unconference Session: Beyond The War for Talent: Exploring the Future of Talent Management
lingkaranx in collaboration with HR NextGenz, One HR, & Glints present
Unconference
Beyond The War for Talent: Exploring the Future of Talent Management
–
As we enter the digital era, 100% of roles will change in the future, making the current job market extremely competitive. To support the changing needs of businesses and candidates, the recruitment teams must expand and embrace 21st century recruiting skills in order to pick the best candidates for their business. 
Therefore, many new companies began taking a differentiated approach and unlearn the old strategy in designing recruitment process. 
–
So what kind of recruitment strategies that works in today's fast-changing industry? 
–
There are many ways to find out; through seminars, panel discussions, or your typical conference. But for the most part, joining these kind of events are boring and  will leave you feeling like you are wasting your time. If the traditional speaker-listener model isn't working for you, this peer to peer space learning environment could be the way to go. Think collaboration, not lectures. This is where Uncoference comes in handy to find out the best strategies to find out how to attract the best talent. 
–
The rules at an unconference is simple:
No topics have predetermined

No speakers have been invited

No panels have been arranged

The event starts and ends by the participation of those who came

The attendees chose the topics that will be discussed
–
In other words, an unconference has no line up until the participants create it! It is a method where as an HR professionals or recruiter, you will be able to get great results, valuable connections, and unique experiences through unconference. Interesting, right? 
That is why lingkaranx in collaboration with our Community Partner from HR NextGenz, One HR, & Glints would like to invite fellow HR professionals, recruiters, and talent team to join our Unconference: Beyond The War for Talent: Exploring the Future of Talent Management where we will find new ways and best practices of recruitment strategies!
–
So, are you ready to find your next great hire?
–
To Join Beyond The War for Talent: Exploring the Future of Talent Management, you need to fill this form by clicking the RSVP button below to book your seat in this Unconference session 
–

–
Unconference Beyond The War for Talent: Exploring the Future of Talent Management will be held in Jakarta, 21 Agustus 2019,19.00-20.00 PM
At Dream Hub Equity Tower, Sudirman No.22, Senayan, Central Business District, South Jakarta City, Jakarta
–
Dream Hub is a coworking space based in Jakarta Indonesia that focuses on educational experiences, inspiring shared office spaces, convenient virtual offices and fully equipped private offices. Dream Hub offer a dynamic community for people and business to grow together. To find out more you can check their website here.
–
–
–
–
In collaboration with: