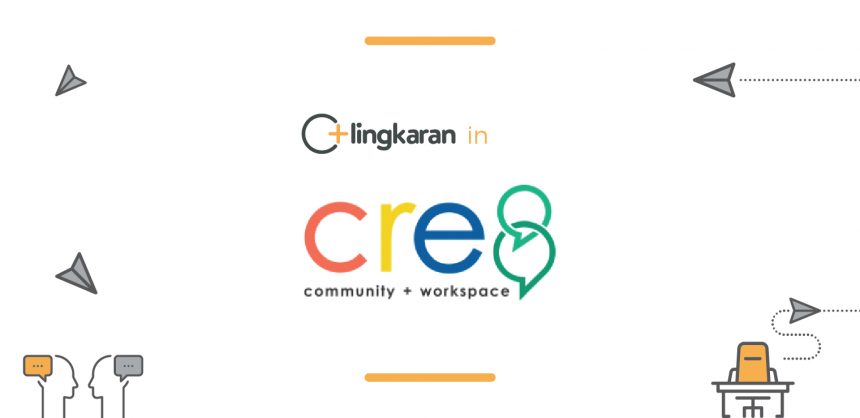 Broadening Our Circle of Ideas with In-Haus Class
Howdy Creatives,
It's been almost two years since lingkaran first mini class, a lot of things have happened and it shaped us into who we are today. Our vision is still the same, as we're still aiming to be the leading educational community in Indonesia.
To achieve that vision, we want to grow and expand our community further, because we know the importance of community. Hence, we introduce In-Haus class. We borrow the word Haus from the Germans, it can be translated into two meanings in their tongue:
Belonging to a part of organization, or

A term given to a person who is amazing in all aspects of life.
We want to combine both of the meaning together, creating a sense of a bigger part of something for our community and increasing lingkaran's ubiquity to reach for more people. To accomplish this, we team up with organization as our community ambassador in lingkaran In-Haus Class to develop series of programs that will deliver the right experiences and values that the community needs.
In-Haus was created in the spirit of lingkaran's mini class vision. It supports independent organizers or space providers to create lingkaran experience, linking our community together by becoming our ambassador.
Therefore, we would like to present our first community ambassador, please welcome:
"It's never unpleasant to work where it feels like home. Not just home to individuals, but also to communities. We aim to connect people for real. By providing the correct ecosystem aligned with your needs, you can focus not only on getting your work done, but also to have fun with your social life!"
– Cre8 & Cowork
Cre8 is a community for entrepreneurs, startups, and business owner based in South Jakarta. Starting from 1 October, we're going to run 6-week program series in their coworking space. 1 day for each week, ending on 5 November 2016.
Here's a sneak peek of our In-Haus programs if you're curious enough;
1 October

– Social Media Branding and Strategy for Your Startup Business

8 October

– Building the Right Culture for Your Startup

15 October

– Basic Financial Management for Your Startups

22 October

– Fashion Styling and Photography for Instagram

(To be Confirmed)

29 October

– Visual Branding

(To Be Confirmed)

5 November

– Keeping up with the PR Workloads

(To Be Confirmed)
As mentioned before, we want to amplify our reach and gives new air for our community, providing different places to experience lingkaran and also opening new possibilities to connect with other communities.
This is our introduction, stay tuned for more updates on lingkaran In-Haus class and you can definitely check our mini class in Jakarta and Bandung if you're craving for knowledge.