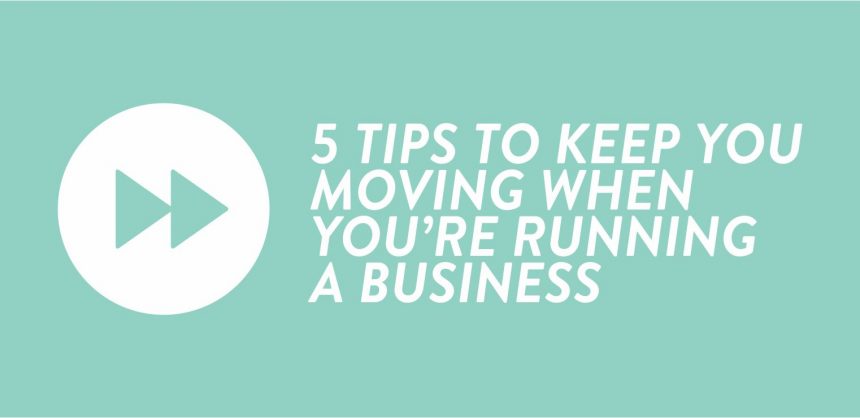 5 Tips to Keep You Moving When You're Running a Business
The feeling of not knowing what to do seems to happen so often in the professional world, especially if you're running your own business. You're putting a lot of effort, but it appears that nothing changed. There's a lot of reasons why you feel that way.
Perhaps you're feeling stuck because the business that you've been dreaming of doesn't meet your expectation, and it demotivates you. It might also because you have no particular goals in mind and just plain confused, or it might be that you're working on other things as well and you lose the ability to focus on your business.
These reasons are incredibly common, but before you start adjusting your actions, first you need to change the way you think and the way you approach certain challenges. We prepare five simple doable things that can help you rediscover your business mojo:
1. Setting goals
Goals act as a navigator. It keeps you on the track and focus. It also provides the clearest way to measure the success of your business. Entrepreneurs who know what they want are more likely to accomplish their objectives. Keep the big vision of your business in sight.
A big vision will take you far, but if you're still doing the business alone or in a small team, it is better to make your big goal into a micro, doable chunks. It's great to have a big dream! But be realistic with how you want to achieve it. As the old quote goes, "big ideas have small beginnings".
 
2. Take risks and face your failure
People say, "Nothing ventured, nothing gained.". Without taking risks, Apple might not be here, in their greatest achievement. And other big brands like Coca Cola or Honda . So that's what you have to do, take that risks. You'll never know what will happen. Rick Warren says in his book, The Purpose Driven Life, "You'll know what you were created to do when you are doing it."
Don't fear of failure when taking risks. Most people believe that failure is bad. Yet without the experience of defeat, few entrepreneurs would know the way to success. As an entrepreneur, we need new and better ways to go beyond lessons. Success can be achieved by learning from failures. Having the ability to face failures and keep moving by making flexibility is one step ahead to achieve your success. A successful entrepreneur is someone who, regardless of the challenge, keeps moving through their hardest time.  "Only those who dare to fail greatly can ever achieve greatly." – Robert F. Kennedy.
3. Never settle
You have to keep moving. Nowadays, things change so quickly – you have to create something sustainable but at the same time continuously innovative. Evaluate your business plan and make necessary adjustments based on feedback and results.
4. Set up a dynamic daily routine
By setting up a daily routine, it will help you become more effective in running a business. Create a daily to-do list in a notebook or your personal computer and list down your priorities, it will save your time and focus on the things that matter most. Then, Chart your business progress every day so it will motivate you to achieve
Chart your business progress every day so it will motivate you to achieve greater achievement and evaluate what you have done.
5. Seek a mentor
A mentor will motivate and lead you. A day will come when "the moment of truth" came to our life and we don't know what to do next. The best way to keep moving is to have someone who has already been down the same road. The right mentor can help an entrepreneur navigate their way, avoid "trap" and keep moving forward. Hence,  improving the odds for success.