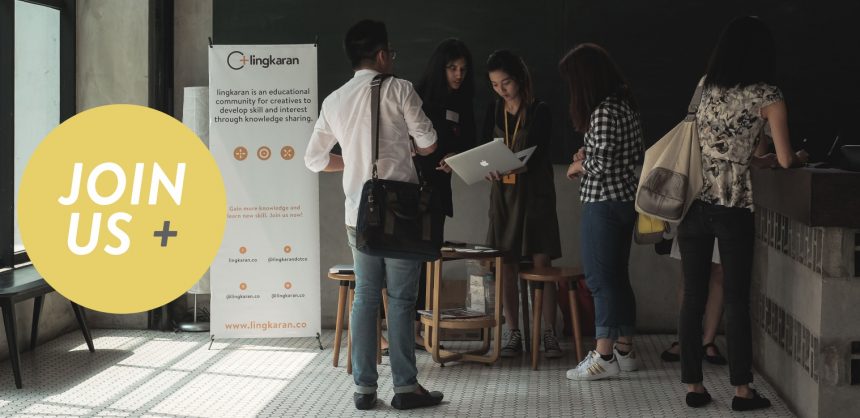 An Invitation For You to Get Involved Further with lingkaran
We started lingkaran as a community-based startup. Simply because we strongly believe in community. People were designed to be in communion with one another. We are not meant to be alone, and lives are enriched by strong family bonds and friendships. Life is better when it's lived alongside, and for, others.
---
Quote from our previous post in COMEUNITY,
---
"The history of the world stands on the importance of community. No sole genius alters the pages of time without some kind of support group. No athlete wins trophies without trainers, no artist gains recognition without those who see her work and share it, and today, few businesses can stay relevant without collaboration. No man is an island, and neither is lingkaran."
–
As some of you may already know, from September to November, we'll be running several programs in parallel. For quick reminder, there will be:
1. WAKE UP before you STARTUP, collaboration program with Coworkinc and Bekraf
    7-weeks program, 3 days a week, in Jakarta and Bandung starting 16 Sept – 21 Oct
2. A+ Startup Accelerator, collaboration program with GoAheadPeople
    10-weeks program, 1 day a week, in Bandung starting 10 Sept – 12 Nov
3. In-Haus Class, our newest program (we'll update you about this very soon!)
   6-weeks program series, 1 day a week, in Jakarta starting 24 Sept – 29 Sept
4. Mini Classes and Master Classes in Jakarta
5. Edscape (also our coming up program)
---
As part of our community, We would like to invite you to be involved further with us in order to help us running all the programs.
---
What will you get?
1 free class for organizing 2 session (for organizing Mini Class and Master Class)

Incentives fee (for organizing WAKE UP before you START UP, A+ Startup Accelerator, and In-Haus Class)

Free learning opportunity in session that is conducted

Chance to meet new people and build new connections

Fun and enjoyable 'working atmosphere'

Get closer to entrepreneurial world
Who can join us?
Basically anyone who want to get involved in creative industry, especially in creative and entrepreneurship classes as well as want to meet new people and learn new things. Preferable for you who are quite sociable and adaptable in new environment.
---
Are you interested? We hope so. We're more than happy to welcome you on board!
You can register yourself here
---
If you want to know more about this opportunity or have any questions or feedbacks kindly reach us through,
Email: contact@lingkaran.co
Whatsapp or phone: +62 812 1098 1048
Line: @lingkaran.co