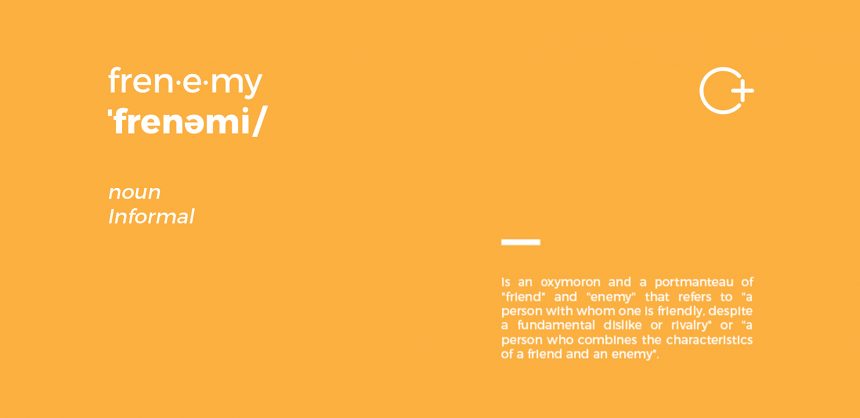 The History of Frenemy and Why You Should Celebrate One
"An intimate friend and a hated enemy have always been indispensable to my emotional life…. Not infrequently, friend and enemy have coincided in the same person."
— Sigmund Freud
–
The term "frenemy" is used to describe personal, geopolitical and commercial relationships both among individuals and groups or institutions. The word has appeared in print as early as 1953 in an article titled "Howz about calling the Russians our Frienemies?" by the American gossip columnist Walter Winchell in the Nevada State Journal.
The dynamics of this unique relationship has always been the highlight of political realms; be it on the world leaders, or as simple as among your office cubicles.
–
Here comes our nomination of best frenemies that is… well, interesting!
–
Forbes Media x Donald Trump
Among the many publications that have covered Donald Trump's long career in the public eye, few have done so as consistently as Forbes magazine. The US president first appeared in the business title's inaugural list of the America's 400 richest people in 1982, and stayed there for much of the subsequent three and a half decades.
But while it seems a natural fit between a magazine that celebrates success and a man who seems obsessed with claiming it, it is a relationship that has had its fair share of friction.
Trump has disputed Forbes's evaluations of his wealth repeatedly over the years, leading its chief product officer, Lewis Dvorkin, to write a column titled "forever frenemies" in a 2015 issue, which featured Trump on the cover and an interview with the man himself conducted by the editor, Randall Lane.
The frenemy relationship seems likely to continue, with Forbes expecting to tackle the uncertainties around what Trump's presidency will mean for its readers in a similar way to the rest of the media, albeit with a less political bent.
Read more here.
–
China x Russia
The China-Russia relationship is the world's most important, and the best between any two great powers, Xi Jinping told Vladimir Putin a couple of years ago. At the Kremlin's V-Day celebration, their ties were reaffirmed in grand style.
A Tartar professor's private comment is stark: "Russia has only three things in common with China: a long border, a history of communism, and a shared enemy." America is the mirror into which both societies look for comparative identity. Russia's self-image is as a nuclear peer, defiant, moral and proud. China's reflection is of a noble empire reclaiming world leadership from a chaotic Washington.
Some observers dismiss the partnership as an "axis of convenience" or a charade of camaraderie. Others point to the widening power disparity between the two, and doubt that Russia will accept subordination to China. Some even think that the two countries are bound for conflict as China thrusts into central Asia, or the two will clash over oil and gas supplies. Chinese nationalists haven't forgotten their lost territories, ceded to imperial Russia under the "Unequal Treaties."
Read more here.
–
Megawati x SBY
Relationship between Megawati and Soesilo Bambang Yudhoyono (SBY) started to become sour when in 2003, SBY, which was then a Coordinating Minister for Political, Legal, and Security Affairs of Megawati's cabinet, rumoured to run as a presidential candidate for 2004 election.
SBY felt estranged and ignored by Megawati in official correspondence, although he was still serving for the cabinet. When he finally resigned to focus on the election, and apparently won it, Megawati didn't even come to his Presidential Inauguration. Since then, they tend to avoid each other on formal state occasions, at least on the recent 12 years.
The cold war was up until last year, when both SBY and Megawati concurrently attended Indonesian Independence Day commemoration at the Presidential palace. The scene were hoped to be a symbolical gesture to end childish political act among Indonesian elites.
Read more here. (in bahasa Indonesia)
–
A Businessweek article stated that frenemies in the workplace are common, due to increasingly informal environments and the "abundance of very close, intertwined relationships that bridge people's professional and personal lives."
–
On a more casual term, a frenemy is basically someone you're obliged to interact with, and sometimes even start to enjoy spending time with, until they remind you why exactly it is you never became (or stopped being) full-fledged friends. There's something about one or both that the other one finds very off-putting, but you also have enough interests and social ties in common to remain reluctantly in a shaky alliance. We all have at least one in our life, right?
In lingkaran's case, we have….
Tami x Agi !
The diversity of our team's backgrounds somehow managed to embrace the dynamics of relationship among them. Sometimes it gets rough, sometimes so sincere and pure, most of the time: delightful. It's a challenge, and yet also blessing in disguise, that our office is one of the new generation of company who takes risk of being informal and less hierarchical. In that way, we can try understand each other better, and then we can understand our customer even more.
–
*
June 8 celebrates the American's National Best Friends Day, a day to honour that one special person you call your "best friend".  This day is a time to show them how much you appreciate them, how special and important they are to you and how you cherish their friendship. Let's give our dearest frenemy once-in-a-year spotlight and let them know they're worth every microjoule of the good effort!
Here's to celebrating the dynamics of frenemy relationship that keeping the fire among us! May the rivalry stays healthy and our companionship makes things progressive.
–
Share this article to your best frenemy!