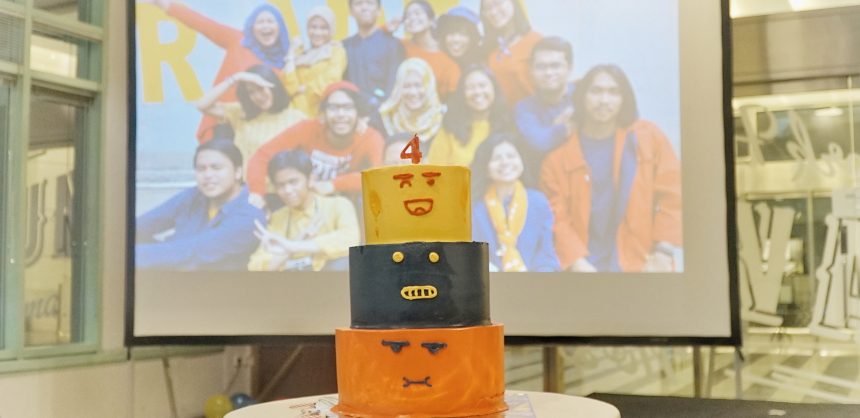 List of Things that We're Forever Grateful for.
–
It's been a while since our 4th Anniversary and Rebranding Launch Party, but we still can't get off from the warm and fuzzy feeling.

Every people that matters to us: partners, collaborators, mentors, learners, friends and families were there.
–
"Sekolah lingkaran Berbakat" was our party theme and we indulged our guests visually with a back-to-school experience. We had lockers, wall bulletin, and even performed our own version of flag ceremony! But this wouldn't be happening without our guests' amazing enthusiasm and active participation. They were so awesome wearing red, navy, or yellow dress code and we love it so much to finally see them interacting one another. We're one giant cult of lifelong learners now!
So please mind us, as we're about to tell you the list of things that we're grateful for, that have brought us to this stage.
–
#1 We're grateful for our rebranding partners: Credens and Sanrok
Thank you for pushing us to be a bolder, braver, quirkier entity. Richie Wirjan, Michael Alexander, and their teams have been collaborating in one way or another with us since so long they are literally our family! We love their craft and their work, and are forever feel blessed to work closely with them for this big project.
–
#2 We're grateful for Kantorkuu Coworking Space, for being the amazing venue of our special moment
Kantorkuu welcomed us to their home and you can see that they generously provide space and comfort for everyone. Thank you Kantorkuu for the hospitality!  They totally got those necessary facilities that will empower your creativity, innovation and craft. We cannot imagine a better place to hold this party! –
–
#3 We're grateful for Qualita Prints as they have brought our brand to life
We're pretty demanding when it comes to making our imaginations come to life, and they did it above and beyond! Qualita Prints is a one stop solution that speaks design. Whether you're looking for a simple one color letterhead, a full color business card, leaflet, or wedding invitations, they can design and produce your job efficiently and cost effectively. lingkaran guaranteed!
–
And these are the real party makers! Our birthday would not be complete without their presence.  Most of them coming from our community of learners, and how cool is that to see them growing, manifested by their products, displayed perfectly to serve everyone at the party. You guys seriously are the BEST!
So,
#4 We're grateful for Wok-a-Day, their food is #lyfe and our kinship is eternal
#5 We're grateful for Daddy Durian, how awesome it is to have your birthday have significant smell?
#6 We're grateful for Banagirl. Not only because them sweet bananas, but also because their boss restlessly juggles between being our learner, Community Ambassador, and partner. He's a mutant.
#7 We're grateful for Tokezi, they might be cheesy but we always want for more.
#8 We're grateful for Book for Good, they always passionately remind us to educate ourselves with books even in a middle of a party. Respect!
#9 We're grateful for our special documentation team: Adi Agustha Yudha and Rhendy Suslaphanda. Just look at our photos and videos!
–
And last but not least…
#10 We're grateful for our team in Jakarta and Bandung. And our extended family of Community Ambassadors. They are the reason why lingkaran could grow and sustain.
Thank you all, and see you anywhere!