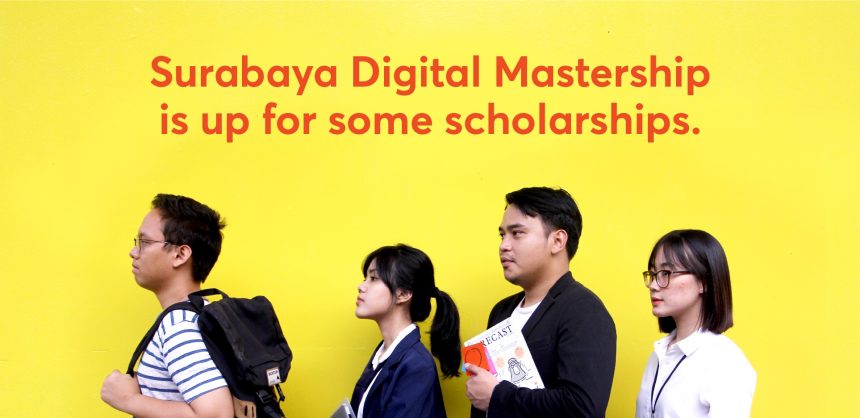 Scholarship for Surabaya Digital Mastership
We've got you a good news! We invite you, aspiring future talents, to compete for the full scholarship of Digital Mastership Surabaya.
This scholarship program will 100% support you to prepare as a talent; most importantly with the in-demand skills for the jobs of today that digital companies are seeking for. Guided by experts and professionals; you will then gain knowledge, required competences, and networks to build your career in related industry and growing your business.
–
So, you've learned that whoever you are, you can't get away from the industry 4.0 effect. From students, professionals, even entrepreneurs; there will be some disruptive changes in our everyday encounter.
Now let's dig more about what you can do next!
–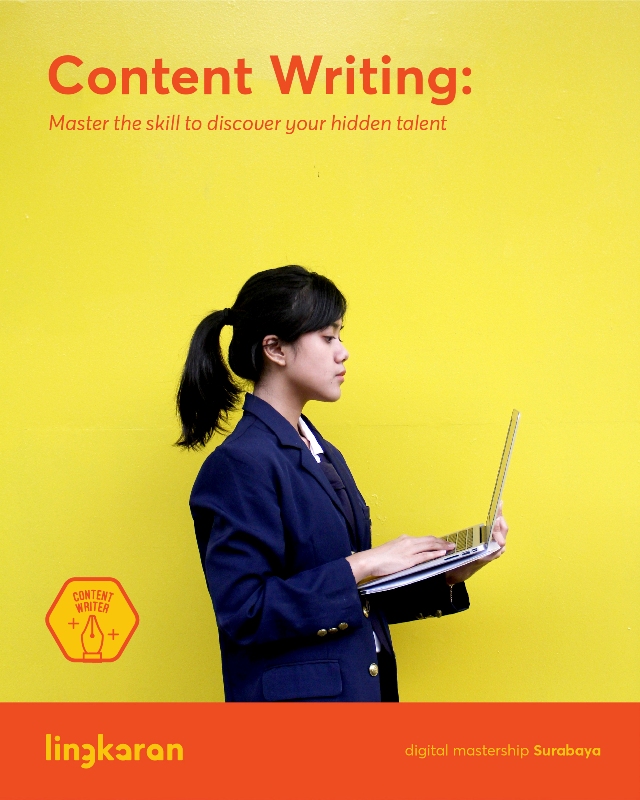 Scholarship for High-spirited Students!
In the era of Industry 4.0, jobs that require creativity are likely to stay. Let's start with something basic with additional value from the future!
What are we talking about? Content Writing!
With the development of digital marketing, the need for good content writing and management is increasing by leaps and bounds to gain more leads. That being said, content writing is one of the most effective and easiest method to keep your digital platform more updated than any other online tools. Besides, content writing is applicable in soooooo many ways!
If you're about to start taking new skills to help you claim the career you love, you might better start with content writing!
See program details here.
–
–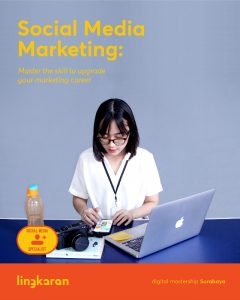 Scholarship for Passionate Professionals!
The report found that 49 percent of all tasks currently being done by workers; from clerks to CEOs, can be automated by 2055 with technology that already exists today. Here's the good news: current job skillset may just need an upgrade rather than a complete overhaul!
Now have you've heard of Social Media Marketing?
Social networks are one of the fastest growing industry in the world, and social media marketing is the latest tool within the company arena, which has displayed a promising rise for the current years.
Conventional companies have learned from their younger competitors and most of them decide to up their digital game, so why don't you take the lead, enhance your skill and make yourself useful for the future of your company?
See program details here.
–
–
Scholarship for Daring Entrepreneurs!
You are a pioneer, and pioneers open the gate to unknown possibilities. If your business been stuck for quite a while, maybe this is the reason:
These days, brand strategy is a powerful weapon to make your business sky-rocketed, and it is critical to stand apart from the crowd. In today's global market, branding goes way beyond just a logo or graphic element; it is the way customers perceives the company.
If you want to achieve a long-term success your business needs a brand strategy to develop positioning recommendations, guide market research analysis, and define brand elements and tone.
You know what? You can do this!
See program details here.
–
–

Scholarship for Hustling Freelancers!
Up to now, the AI level can be human right-hand in many many execution tasks with highly exact and ultra speed. No worries, because we still have faith in humanity, empathy, and creativity from the real soul!
Do you know that Digital Marketing is the right skill for the future on this?
The demand for digital marketing candidates has skyrocketed over the past 10 years. Many companies and brands are looking to hire qualified digital marketing experts, who have the necessary levels of training and experience.
Are you ready for some skill-booster? Claim the precious future skill to compete better in the hustling scene!
See program details here.
–
–
We are looking for Local Business Owners, Entrepreneurs, Professionals, Freelancers, and Students, who are eager to learn and develop themselves, especially in digital skills.
–
You are eligible to apply this scholarship if:
​Minimum of 18 year old at the time of commencing the Digital Mastership
​A local business owner / entrepreneur / professional / freelancer / student
A citizen of, and residing in Surabaya, Indonesia
​Each person, institution, and startup / enterprise is only eligible to enroll in 1 program. We won't accept grantees from the same institution / startup / enterprise, and those who apply to more than 1 program.
​

Submission due :
Monday, November 12th, at 11:59 pm
​
The shortlisted applicants announcement :
Wednesday, November 14th, at 7:00 pm
You will get a confirmation  via email / phone call / WhatsApp if you are selected as a participant of this program.
Got Question? Our Happiness Expert would be happy to answer! Go here.