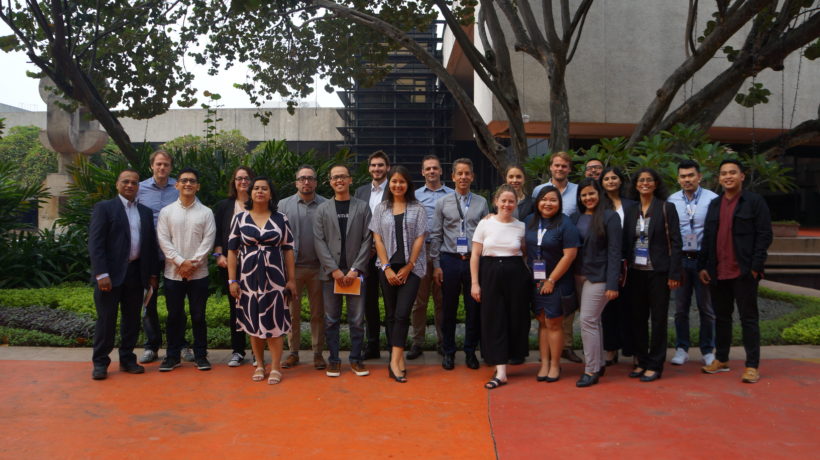 Startup AsiaBerlin Roadshow 2017 [RECAP]
Greater Global Connectedness leads to higher performance for startups and their ecosystems. Establishing more relationships between founders and executives in other parts of the world brings in more ideas and more innovation, resulting in faster startup growth and more vibrant ecosystems.
.
"Startups thrive on relationships and the exchange of ideas—with customers, investors, corporations, and, especially, other startups. These ideas include "hard" knowledge such as technical ideas about product improvement, new scientific ideas, and how to sell into different markets. But global connectedness also brings the benefits of a global network to startups and their ecosystems, including giving introductions and being exposed to a pay-it-forward mentality. The exchange of this knowledge occurs through personal relationships, and more relationships leads to faster-growing start-ups. The broader those connections are, the better the growth outcomes will be for startups and their ecosystems."
This passage from the "Global Startup Ecosystem Report 2017" beautifully sums up exactly what we are striving for. Our roadshow, that happened from October 18-29, was the perfect tool for this aim. A delegation of 25 startup ecosystem players – ten from Berlin, and five from each partner city – visited our Asian partner hubs Manila, Jakarta and Bangalore to connect, exchange knowledge and ideas, establish partnerships and get an insight into the works of other striving ecosystems. The program consisted of visits to companies like Tokopedia in Jakarta and YourStory in Bangalore, coworking spaces and accelerators such as the Bosch DNA Accelerator in Bangalore and various startup events and conferences like the Slingshot Conference in Manila. See all roadshow participants and the stops of our roadshow here.
.
.
While many of the roadshow participants were startup ecosystem developers such as Stephanie Arrowsmith (Impact Hub Jakarta), Ces Rondario (Impact Hub Manila), Dola Samanta (YourStory), Kerstin Bock (Openers, Tech Open Air Berlin), Maren Lesche (etventure Startup Hub), and Geraldine de Bastion (Global Innovation Gathering, re:publica), with a particular interest in closer connecting the startup ecosystems to one another other, some startups had very specific interest in business activities in those markets. Christoph Göller e.g. was watching out for business partners to bring his startup and product Coolar into the rural areas of Indonesia, India and the Philippines. Thanks to our roadshow, Bosch DNA Accelerator offered him a spot on their next batch in Bangalore.
.
.
A highlight of the roadshow was the visit at Jakarta's Smart City office where the Governor of Jakarta initiated a massive smart and big data project to overcome the traffic situation of Indonesia's capital and its surrounding regions. The delegation also had the opportunity to meet with local investors in every city and hosted panels with VCs and accelerators from all ecosystems (such as East VC, Kompass Digital, Z Nation Lab, Mandiri Capital, Ascent Ventures, PI Ventures and many more). Of course we also thoroughly enjoyed all the amazing venues we were hosted at, from Impact Hub, Kickstart Ventures and Launch Garage in Manila, EVhive and Creative Hub in Jakarta to the Bhive Coworking Space in Bangalore.
.
.
The roadshow's aim of creating sustainable cooperation between the startup ecosystems was reached successfully and was only exceeded by the incredible group chemistry among our international delegates from very different cultural and professional backgrounds. Ten days of indulging in inspiration, personal exchange of knowledge and ideas, and laughter ended way too soon. We are very confident, however, that these relations will last and are looking forward to seeing the delegates back together at the Asia-Pacific Weeks 2018!
.
.
StartUp AsiaBerlin is a project established by Berlin's Ministry for Economic Affairs, the Deutsche Gesellschaft für Internationale Zusammenarbeit (GIZ) GmbH, the Impact Hub (Social Impact) Manila, the Indo-German Chamber of Commerce in Bangalore, and HI Indonesia in Jakarta. The project is supported by the German Federal Ministry for Economic Cooperation and Development (BMZ). The plaftform is open for growth, other hubs/cities are invited to join and boost the platform.
.
As published in Startup AsiaBerlin website on November 6, 2017 by Claudia Lunscken
.