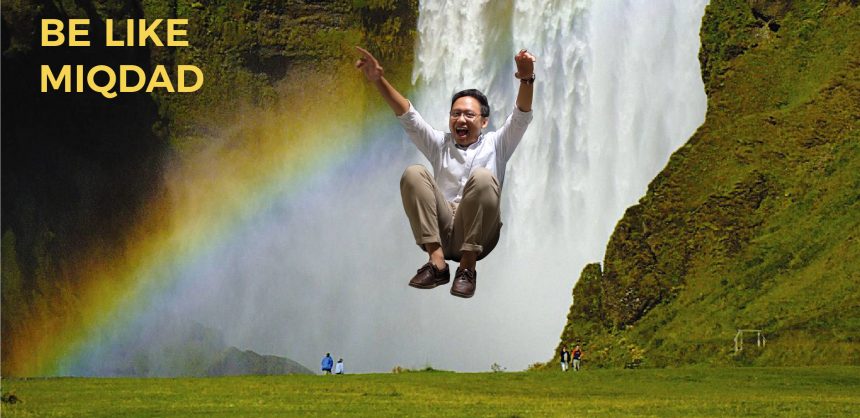 Be Like Miqdad!
We love every time we see our learners come in full circle!

         Guess we have to tell you the story of this special person.
.
Meet Miqdad!
He started the journey with lingkaran as a learner in Digital Marketing Master Class last year.
That time he was still in senior year at Universitas Indonesia.
.
And then the next month he joined our ComeUnity Ambassador program, helping out our Dare To Fail event, some classes, and lingkaran's 3rd anniversary. He followed the ups and downs in running the class and joining the discourse of making this creative education platform a healthy community.
.
.
lingkaran Community Ambassador is a role that will represent the core value of lingkaran within their own community. This program suits those who want to take a little step in the creative industry and gain more knowledge about it, believe that they're sociable people and adaptable in the high-pace working environment. Last year he really did well!
.
.
Earlier this year, we need an extra hand in our Experience Design team. These folks are responsible on providing classes with experience and perks, supported by fellow ComeUnity Ambassadors. And Miqdad did apply!
lingkaran is home to remarkable people from all walks of life. We are creatives, education enthusiast, marketeers – some of us are bedroom singer, party animal, cat daddy, and #swiftie (obsesive fan of Taylor Swift). Weirdness is part of who we are, and we appreciate us. We help our team members grow in their current roles and dream about what's next. So we only hire exceptional people and help them develop both personally and professionally.
He obviously nailed it.
In his spare time towards his graduation, he is now working with us part time!
.
.
It really feels extra win when you witness someone grows and evolves, and proud to call them your tribe. We're grateful to have Miqdad in our team, and he is indeed happy to be with us!
So be like Miqdad! Be always curious and craving for experience. Here in lingkaran we encourage everyone to step out of their comfort zone, trying out something new, and exploring the limitless possibilities out there.
Maybe next time, it could be you.
.