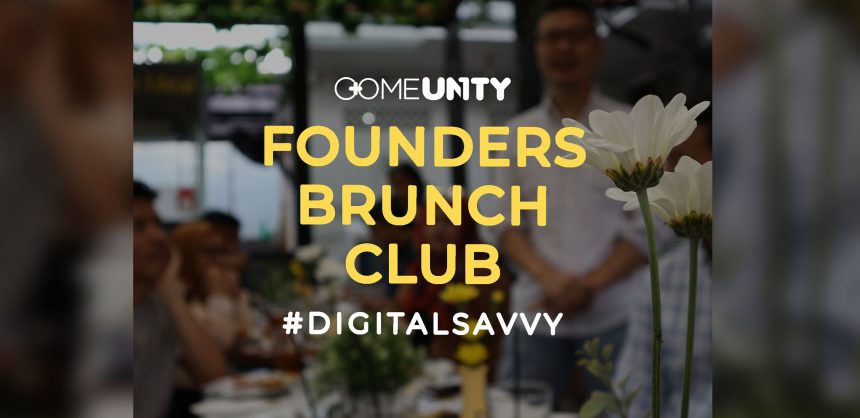 ComeUnity #6: Founders Brunch Club "Digital Savvy"
Successful managers and entrepreneurs hear the warnings all the time: it's pretty lonely at the top.
If you're in business to be successful, you can't expect to make friends at work because you'll have to manage them some day. Entrepreneurs are told that loneliness and isolation come with building a business, almost as if solitude is the price of admission into the business world…
… But! Afraid not!
Because here in lingkaran, we believe that talking to the like-mindeds, connecting and enriching knowledge, is the key to maximize our potential. This year, we're striving to be a progressive ecosystem that pushes and supports Indonesia's creative talents and entrepreneurs that reaches a world class standard.
Hence, ComeUnity : Founders Brunch Club exist.
ComeUnity is our program dedicated exclusively for our members to gather, share, and connect in a positive environment by developing collaborative network.
This time, we were dedicating the session for our fellow founders who utilise Digital Marketing & Social Media for their brands & enterprises. There were some twenty of us sitting and sharing valuable insights on a beautiful Thursday morning in an intimate brunch setting: mentors, partners, and of course our beloved learners.
.
.
CreativeMornings Jakarta, in partnership with Plaza Indonesia organised our 6th ComeUnity: Founders Brunch Club themed "Digital Savvy", with french style brunch and beautiful venue provided by Bistro Baron at Plaza Indonesia. It was an insightful session filled with new knowledge, friendly greetings, and good news.
.
.
Representing Plaza Indonesia, Tommy Utomo as their Public Relations & Marketing Communication Manager, giving the welcoming speech. As the country's first-class shopping and lifestyle destination, Plaza Indonesia has established a solid reputation synonymous with fashion, luxury, quality and 5-star customer service. In this digital era, they're stepping up the game by collaborating with diverse lifestyle communities and engaging them on social media. One of the collaborators is our own CreativeMornings Jakarta, which will held the signature monthly breakfast lecture series at Plaza Indonesia, starting this March! (btw check out the next event with Talita Setyadi, here.) Then Cecilia Salim followed the speech as the creative planner for Bistro Baron, presenting the day's special brunch menu curated for the event.
.
Customised table spreads match the interior decoration, designed by Nabila Jamal
.
Our Founder & Headmaster, Wendy Pratama, addressing the topic on "Digital Savvy: Mastering Digital Marketing & Social Media for Today's Enterprise." Having our targeted market as the digital native, and being a high consumers of social media ourselves, we believe that social media is the most convenient way to find, grow, and engage to our audience. This way we need to re-calibrate the way we market our products, our communication style, and the experience we provide for them.
The discussion is even richer with the insights from our Digital Marketing Masterclass mentor, Yopie Suryadi of Mail Target, about mail automation as the most effective tools to boost your sales. Also our regular learners, Narawastu Indrapradna of DOKI Digital Agency, added from the perspective of social media influencers, "The audience nowadays are aware of the quality of content they're consuming, and can easily follow-un-follow based on their visual and 'vibes'. We have to craft and curate our product display based on our market's demography, characters, and taste. And yes, the instagram new algorithm is simply annoying. But that's our challenge!"
.
.
We obviously had a lot on our plate that day! Among our guests there were Arief Ambiya of Stasiun SamiSami, Maria "Mayu" Juliana of This Temporary, Ivan Loviano Sukarno from Digital Team of Jenius, Cendy Mirnaz and Shinta Ulli Pasaribu of Noesa, Gabriel Latupeirisa of GAB Graphic+Branding Consultant, our Personal Finance class mentor: Adrian Irwandika of Jagadu.id, and our beloved learner slash aspiring florist, Yuni Muharomah.
.
.
See you at our next ComeUnity: Founders Brunch Club!

.